PumpRight
Hydraulic Drive Diaphragm Pumps
The highest quality variable speed hydraulic drive diaphragm pump out there.
PumpRight is a variable speed hydraulic drive diaphragm pump ideally suited for planter fertilizer applications. Positive displacement pump provides suction from any tank location. Run dry protection eliminates worries of pump and seal damage.
Why PumpRight?
Over the last year, SureFire has tested several new pump models available to the market. That testing went so well that SureFire has chosen to overhaul its entire pump lineup going forward.
SureFire is moving away from the D70, D115 and D160 to offer PR17, PR30 and PR40 models. These new models are from the same pump manufacturer as the original lineup of D-series pumps that were originally designed in the 1980's.
These new pumps use modern technology advancements in flow dynamics and materials to create a very robust pump that is more efficient and more resistant to harsh liquids than ever before. This new lineup of pumps will strengthen the complete line of fertilizer products SureFire already offers.
For over 10 years, the SureFire PumpRight has been the building block for our higher rate fertilizer systems. SureFire has sold thousands of the D-series pumps to apply liquid across the globe and feels confident in this new line up of Gen-2 pumps will continue to be a reliable component of our fertilizer systems.
SureFire is very excited about the New BlueFlex™ diaphragm system. The combination of the new diaphragm material combined with the new patented diaphragm plate allows for heavy duty use and long lasting diaphragms. The New BlueFlex™ material, curved shape, and diaphragm thickness have been designed and tested to achieve optimal performance, durability, and working life. This new material is the best performing diaphragm material on the market today!
The PumpRight is a reliable pump solution that will last several seasons with proper care and maintenance. It has a tremendous amount of suction which allows us to pull product from several feet away. With over 15' of vertical lift, pulling from long distances won't be a problem anymore. All PumpRight hydraulic driven diaphragm pumps are oil lubricated pumps giving the pump the ability to run dry. These positive displacement pumps will deliver a smooth, consistent flow output throughout the entire range of the pump.
You Get
Parts in contact with liquids are molded polypropylene and 316 stainless steel

New BlueFlex™ diaphragms 

O-rings and gaskets are Viton

316 stainless steel high flow valves

External fasteners are all stainless steel, including mounting hardware

Easy access drain plug for winterization

New compact design

Plumbing efficiency maximized to reduce inlet restriction
From our clients
Testimonials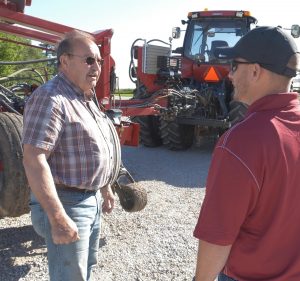 //Their service is excellent, I love working with them. Cody is like my right hand man.//
Jerry Stahr
Local Farmer, Crossroads Customer
//The One-Step Bulk Fill is made in the USA by our team at Crossroads, for you.//
Wes Williamsen
Crossroads GPS Owner