Accelerator
SureFire's complete fertilizer kit, the Accelerator, is a liquid application system that gets on the fast track with SureFire Commander controller, Arag Ion Flow Meter, The Tower II Pump system, dual tube metering distribution and tank assembly. The Accelerator is ideal for low volume, in-furrow starter or pop-up application and is designed for rugged agricultural applications.
Forward Farming
The SureFire Accelerator system is a complete system featuring the SureFire Commander II Controller, Electromagnetic Flow Meter, the Tower 200 Pump system, a tank assembly, and row plumbing. The unit comes plumbed for agitation and an integrated rinse basin makes flushing the system a snap.  The Accelerator is ideal for low-volume fertilizer or chemical applications. It can be utilized on the smallest of specialty crop equipment (e.g. vegetables and fruits), as well as small to medium-sized row crop equipment. Available in three tank size options:  55, 110, or 155 gallons.
Upgrade Kits
Type 1- Automatic Control from Manual "Pressure and Speed"​
This upgrade includes:
The SureFire Commander

The Accelerator with mag meter

Pressure Monitoring and Notification

Garmin GPS Speed Sensor

Implement Work Switch
Type 2 – Metering Tube Manifold and Distribution System
To reduce problems with plugging at the point-of-orifice, upgrade to a Metering Tube manifold and distribution system. Metering tube will increase the size of the orifice opening by nearly three times. The upgrade option does not include any pressuring monitoring or automatic rate control. Due to the importance of maintaining low pressure when applying Black Label products we recommend upgrading to a complete new system for the greatest field reliability.
You Get
Garmin GPS Speed Sensor

SureFire Mag Meter

Fertilizer Tank

SureFire Commander

Tower II Pump System
From our clients
Testimonials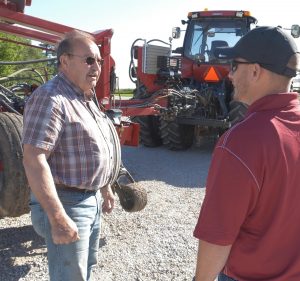 //Their service is excellent, I love working with them. Cody is like my right hand man.//
Jerry Stahr
Local Farmer, Crossroads Customer
//The One-Step Bulk Fill is made in the USA by our team at Crossroads, for you.//
Wes Williamsen
Crossroads GPS Owner