PinPoint™ II Sprayer
Apply with precision. Individual nozzle control with the PinPoint™ II system maximizes efficiency through increased accuracy. 
PinPoint™ II controls flow and pressure at the nozzle, in conjunction with individual nozzle boundary control, provides accurate and repeatable application to achieve the desired coverage.  Speed up, slow down, turn, overlap, or any combination of those variables will not affect the consistency built into this system. 
The award-winning individual nozzle boundary control software as well as CapstanAG's signature availability and reliability leads the industry in precision application.
You Get
Individual nozzle control

Turn compensation

Real-time system feedback and diagnostics

Individual nozzle boundary control

Customized boom configurations based on user inputs

Droplet size remains constant through wide speed ranges

Wider application speed ranges

No over/under misapplication

Drift management

No crop burn from turning

Uniform pressure and droplet size

Chemical and time savings

User-serviceable valves with common tools
From our clients
Testimonials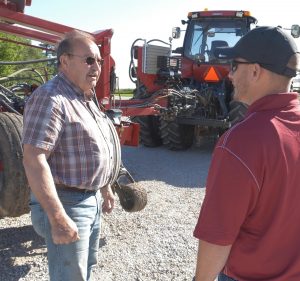 //Their service is excellent, I love working with them. Cody is like my right hand man.//
Jerry Stahr
Local Farmer, Crossroads Customer
//The One-Step Bulk Fill is made in the USA by our team at Crossroads, for you.//
Wes Williamsen
Crossroads GPS Owner