Spartan Direct Injection
Mobile injection with unmatched accuracy. The SureFire Spartan compliments the already great line of SureFire Application Products.  The Spartan Mobile injection system blows the competition away with its unmatched accuracy.
This injection pump comes in four sizes, 2 to 10 oz/min, 3 to 20 oz/min, 5 to 40 oz/min, and 10 to 80 oz/min. Pump sizes can be matched up with several tank sizes to meet the customer's needs.  The SureFire Spartan is the most accurate injection pump on the market today. This accuracy helps eliminate waste and helps enhance more environment-friendly practices.  Injection allows us to get away from tank mixing so we can adjust the concentration throughout the field.
Controller
The SureFire Spartan has the ability to be controlled by all major ag platforms.  Why add another controller to the cab when we can simply use the controller you own?  SureFire can work with you and your technology platform provider to make sure that you have what you need.  Your local technology dealer will provide the correct module and SureFire will plug into it.  SureFire will provide the correct harness depending on which platform you have.  SureFire Electronics computer tests and certifies ALL harnesses they manufacture for SureFire Ag.  You will receive a high quality braided harness that will hold up better in the difficult ag environment.
When the customer does not have a controller to plug into, SureFire can provide its Commander II Controller.  The Commander II Controller is a highly accurate, very compact, automatic, rate controller.  It allows great performance from your system with the simplest wiring in the industry.  The SureFire Commander II controller comes with a factory calibrated speed sensor that comes with a magnetic base that the customer mounts outside of the tractor with a clear view of the sky.
Works With
​

John Deere rate controller

Ag leader liquid product control module

Trimble field IQ rate & section control module

Case IH Pro 700 with AccuControl

New Holland IntelliRate

Raven
From our clients
Testimonials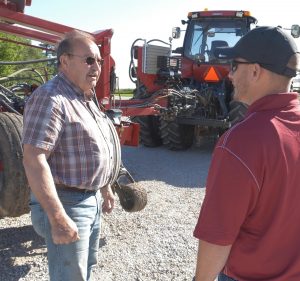 //Their service is excellent, I love working with them. Cody is like my right hand man.//
Jerry Stahr
Local Farmer, Crossroads Customer
//The One-Step Bulk Fill is made in the USA by our team at Crossroads, for you.//
Wes Williamsen
Crossroads GPS Owner