SmartFirmer
Use SmartFirmer measuring in your field. A few seeds per field just doesn't give you enough information to get a complete picture of whether or not your depth setting is correct, but SmartFirmer does. It is a seed firmer-sensor that measures the amount of moisture available to the seed so you can adjust your depth correctly and know you will have a consistent crop stand. 
SmartFirmer Gets the Seed Environment Right
While you are planting, you might dig a few seeds per field. More than likely you are only looking at a fraction of the seeds and guessing that all of the ones you do not look at are ok. The rest of the seeds are left to crossing our fingers and hoping they are in the best environment to start their journey. With SmartFirmer you will have confidence in the environment that every seed is in.
SmartFirmer Gives Confidence
SmartFirmer is a seed-firmer sensor that is measuring the furrow as it is firming each seed into the bottom of the trench.  SmartFirmer helps you know that the environment the seed is being placed in is in good shape. It can also help you determine what type of variability you may have in your field.
SmartFirmer pairs with 20|20 in the cab and vDrive, vApplyHD, and mSet on the planter in order to control different variables by organic matter.
You Get
Soil moisture sensing 

Soil temperature sensing

Furrow uniformity

Residue sensing

Organic matter sensing

Organic matter control
From our clients
Testimonials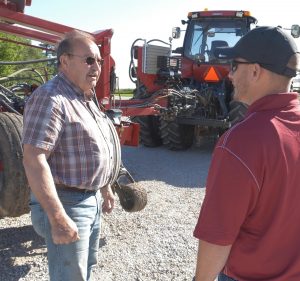 //Their service is excellent, I love working with them. Cody is like my right hand man.//
Jerry Stahr
Local Farmer, Crossroads Customer
//The One-Step Bulk Fill is made in the USA by our team at Crossroads, for you.//
Wes Williamsen
Crossroads GPS Owner