Laforge DynaTrac® Guidance Interface
DynaTrac® is a universal guidance interface. GPS tractor guidance benefits are recognized by farmers around the world. They ensure repeatable tractor positioning.
We use DynaTrac® because it slopes where the implement drifts, driven by its weight. Also, in flat fields – implements can drift laterally due to uneven soil condition across implement working width and unsymmetrical pull due to implement configuration.
You Get
Efficiency when coupled with a guidance system (GPS or camera)

One interface for all implements

An economical solution instead of buying multiple or new implement-dedicated guidance for each implement

Reduced fuel consumption and limited soil disturbance 

Optimized and fast harvest with no guess rows and harvester guided by seeding line

Decreased fertilizer application rate, positive for the environment and cheaper for you

Drip irrigation
From our clients
Testimonials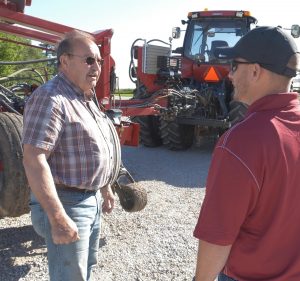 //Their service is excellent, I love working with them. Cody is like my right hand man.//
Jerry Stahr
Local Farmer, Crossroads Customer
//The One-Step Bulk Fill is made in the USA by our team at Crossroads, for you.//
Wes Williamsen
Crossroads GPS Owner