EZ-Pilot® Pro Guidance System
The EZ-Pilot® Pro guidance system offers high accuracy guidance across MFWD tractors, 4WDs, and combines. The added benefit of the EZ-Pilot Pro system is that vehicles are now able to be engaged in reverse to allow them to be lined for the next swath (max 15 seconds). Adding this feature allows users to benefit from a high accuracy solution from the second the implement engages with the soil.
Works with:
NAV-500™/NAV-900

GFX-350™

GFX-750™
Complementing your guidance display, Trimble's wide selection of assisted and automated steering systems ensures you get the solution that steers your vehicle on line with maximum precision.
Hands-free guidance for your many farm vehicles

No matter the field pattern or terrain, keep your focus on the work at hand

Operate day or night in low visibility or adverse weather conditions
Trimble guidance displays and steering solutions help you accurately monitor and map field information in real-time. Benefit from our industry-leading performance and reliability to complete field applications quickly and efficiently. With an array of functionalities and price points, you can select the combination that best fits your farming needs.
You Get
High accuracy at an affordable price

Vehicles can be engaged in reverse for up to 15 seconds

Vehicles stay engaged while stopped

Reduced hardware makes transferring between vehicles even quicker
From our clients
Testimonials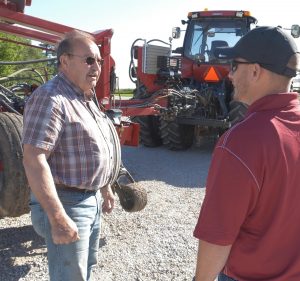 //Their service is excellent, I love working with them. Cody is like my right hand man.//
Jerry Stahr
Local Farmer, Crossroads Customer
//The One-Step Bulk Fill is made in the USA by our team at Crossroads, for you.//
Wes Williamsen
Crossroads GPS Owner