EZ-Pilot® Assisted Steering System
Assisted steering with integrated electric motor drive for high accuracy at an affordable price. The Trimble® EZ-Pilot® assisted steering system provides high-accuracy steering at an affordable price. When you are driving your vehicle, the EZ-Pilot system turns the wheel for you with a compact, electric motor drive using guidance from Trimble displays to help keep you on line and improve your efficiency. The versatile steering system is ideal for both low-accuracy broadacre farming applications as well as high-accuracy row crop applications.
Works with:
TMX-2050™

GFX-350™

GFX-750™
Complementing your guidance display, Trimble's wide selection of assisted and automated steering systems ensures you get the solution that steers your vehicle on line with maximum precision.
Hands-free guidance for your many farm vehicles

No matter the field pattern or terrain, keep your focus on the work at hand

Operate day or night in low visibility or adverse weather conditions
Trimble guidance displays and steering solutions help you accurately monitor and map field information in real-time. Benefit from our industry-leading performance and reliability to complete field applications quickly and efficiently. With an array of functionalities and price points, you can select the combination that best fits your farming needs.
You Get
Integrates directly into the steering column for clear access to cab control

Provides hands-free guidance for your many farm vehicle types

Allows for unrestricted manual steering when assisted steering is not engaged

Utilizes terrain compensation technology for high accuracy on difficult terrain

Ideal for both low-accuracy broadacre and high-accuracy row-crop farming applications

Complete field applications quickly and accurately

Reduce operator fatigue and increase safety

Operate day or night and in dusty or low visibility conditions
From our clients
Testimonials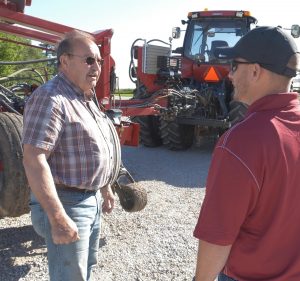 //Their service is excellent, I love working with them. Cody is like my right hand man.//
Jerry Stahr
Local Farmer, Crossroads Customer
//The One-Step Bulk Fill is made in the USA by our team at Crossroads, for you.//
Wes Williamsen
Crossroads GPS Owner