CenterPoint® VRS
Agriculture GNSS positioning services allows you to converge instantly.
Trimble CenterPoint VRS provides instant access to RTK-level positioning within a fixed network. With sub-inch accuracy, this agriculture GNSS correction service helps you achieve the quality standards you need in less time for tasks such as drainage, drip irrigation, and land leveling in areas with good cell coverage. Watch your productivity, and your profits, grow.
With accuracy levels less than 2 centimeters, you can get your job done fast and on the line the first time.
Dropped signals are a thing of the past. Our reliable networks ensure you're always on and working so you can keep on producing without interruption.
A reasonable annual subscription provides you with year-round access to reliable, high accuracy corrections within the network.
You Get
Available throughout much of North America, Europe, New Zealand, Australia, and expanding

No buying, moving, or maintaining a base station or setting up your own infrastructure

A reasonable annual subscription provides you with year-round access to reliable, high accuracy corrections within the network

Better than 2.5 centimeter accuracy for jobs that require the highest level of precision positioning

Simple, instant Initialization – connect, correct, measure

Full accuracy instantly under optimal conditions
From our clients
Testimonials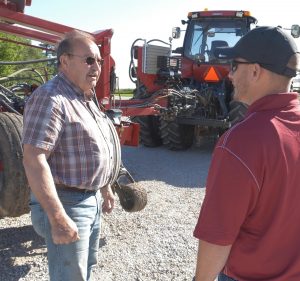 //Their service is excellent, I love working with them. Cody is like my right hand man.//
Jerry Stahr
Local Farmer, Crossroads Customer
//The One-Step Bulk Fill is made in the USA by our team at Crossroads, for you.//
Wes Williamsen
Crossroads GPS Owner